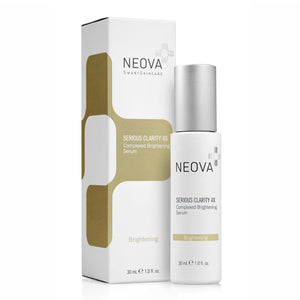 An all-inclusive serum with four highly effective brighteners to renew skin clarity and reduce the appearance of discolorations, including post-blemish scarring. Works to improve the skin without irritating side effects.

Key Ingredients:
 - Undecylenoyl Phenylalanine [UDP] works effectively to interfere with the emergence of visible age spots and localized pigmentation.
 - Manganese Tripeptide-1 Complex A non-toxic inhibitor of melanin promotes even skin tone.
 - Glycyrrhiza Glabra [Licorice] Root Extract inhibits tyrosinase activity and provides effective soothing.
 - Ascorbyl Palmitate, a form of Vitamin C, scavenges free radicals, stabilizes oxygen-sensitive molecules and skillfully brightens.

Apply daily immediately after cleansing in the morning and evening.