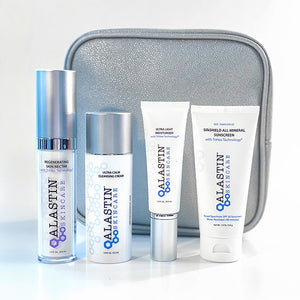 This Procedure Enhancement System with TriHex Technology® helps to prepare the skin and accelerate results when used before and after cosmetic treatments.
KIT INCLUDES:

 - Regenerating Skin Nectar: Helps to strengthen and prepare skin before a cosmetic treatment and reduce recovery time afterward. (full size - 1.0 Fl. Oz.)
 - Ultra Calm Cleansing Cream: Creamy cleanser that gently cleanses and calms skin, and promotes hydration. (travel size - 1.0 Fl. Oz.)
 - Ultra Light Moisturizer: Helps to hydrate, sooth and calm irritated skin, and restore and improve the appearance of skin following a cosmetic treatment. (travel size - 1.8 Fl. Oz.)
 - SilkSHIELD All-Mineral Sunscreen SPF 30: Broad spectrum sunscreen that protects the skin from UVA/UVB, IR rays, pollution and blue light. (full size - 1.9 Fl Oz.)

We believe in keeping the planet green! With every purchased product we donate a tree to Ecologi to help give back to the planet.